Morse Metal Devil Blades - Technical
NOTE: This Tech Informational Page has links to 3 more Metal Devil pages! Call for pricing.
Saw Machines | Videos | Tech Info | Specs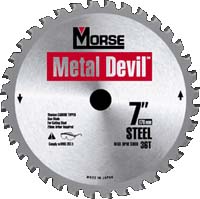 Circular Saw Machines
We sell the most heavy duty circular saw machines on Earth to turn the Metal Devil Saw Blades. With our machines, the blades STAY SHARP 3 TIMES LONGER than on standard circular saw machines.
The Morse Metal Devil: A Faster Way To Cut
The Morse Metal Devil saw blade cuts through steel, iron and aluminum with minimal frictional drag. Consequently, the time savings are dramatic.
Watch short metal saw cutting videos to see how easily the Morse Metal Devil cuts through a variety of metals.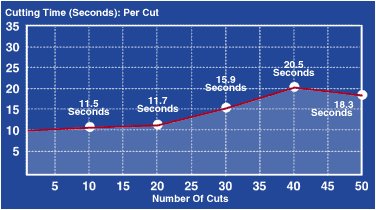 Cut Through Solid Steel Plate Less Than 12 Seconds!
In laboratory tests this metal cutting saw blade cut through 6" x 1/4" thick steel plate in less than 12 seconds on the first 20 cuts. This ferrous saw blade is a speed demon!
A Longer Lasting Way To Cut
The unique metallurgy of the carbide tips and hardened steel inner plate combined with the configuration of the teeth and manufacturing quality create a ferrous circular saw blade that makes more cuts in metal than other saw blades attached to a circular saw.
Cut Through Aluminum Plate 700 Times And Be Ready To Do More!
After watching a Morse Metal Devil blade make 700 cuts on 12" x 3/8" aluminum plate, our laboratory testers wore out before this ferrous saw blade! A big part of the reason is that the Metal Devil cuts cool and therefore does not melt aluminum along the cut line. Saw blade tests show that cutting angle iron and steel plate can be expected to deliver long life performance on virtually any metal cutting application.
The Importance Of Being Cool
The cutting power of Morse Metal Devil keeps the saw blade cool. The unique metallurgy and tip geometry of the saw blade and cutting tips means that virtually no heat is transferred to the inner plate or the material being cut. Imagine cutting through a piece of solid steel then immediately picking up the pieces by the cut edge. You can do it with this metal circular saw blade.
Cool Cutting Means Faster Cutting
Think of how much time you'll save without having to wait around for parts to cool before you pick them up.

Cool Cutting Means Safer Cutting
The Morse Metal Devil also minimizes the sparks generated when cutting. With limited sparking and cool cutting action, the chance of sparks smoldering in nearby materials or of being burnt when picking up freshly cut parts are eliminated.

Cool Cutting Means Cleaner Edges
Cool cutting means that painted surfaces will not melt at the cut, leaving paint right to the edge. This is especially helpful when cutting prefabricated building materials such as metal roofing and ferrous siding. These chop, skill, & circular saw blades also will not cause melting as it cuts through aluminum leaving a cleaner edge.
We specialize in sharpening general to professional saw blades & router bits, manufacturing custom router bits, and selling new metal devil saws, router bits, woodworking tools, & metal cutting circular saws.


At Dynamic Saw, We Make The Cutting Edge!