Dynamic Saw Inc. is located in Buffalo, NY and owned by Dan Callari and his son, Stephen Callari. Combined the Callaris have over 35+ years sharpening saw blades, router bits, dado sets, knives, tip replacement, complete re-tipping, hammering / flattening, and reweld broken shoulders on blades.
We serve businesses throughout the Buffalo, New York area and have numerous customers throughout the USA. In 2014 our latest sharpening equipment purchase was the Vollmer CHD 270 which is the most technologically advanced blade sharpener that money can buy! See the video below!
We have a thriving online business selling new saw blades and router bits due to immense knowledge of what saw blade or router bit is best for you intended application. This means we need to talk to you to gain detail knowledge of how and what materials you are cutting before we can recommend the best blade. Saw blades are listed on the Menu Button under A-M and N-Z.
Our primary suppliers are Popular Tools, Amana Tool, Morse, LMT Onsrud, and CMT.
Please review the blade you think is best for your application by clicking on the link to read the specifications and pricing which applies to saw blades from Popular Tools, and then give us a call.
We sell the most heavy duty circular saw machines on Earth to turn the Metal Devil Saw Blades. Our metal cutting bandsaw blades are designed for cutting all types of metal: non-ferrous to hardest ferrous metals.
With our machines, the blades STAY SHARP 3 TIMES LONGER than on standard circular saw machines. Our metal cutting saws utilize unique motors allowing them to maintain higher torque while cutting through tough metals. Each saw is equipped with 1 steel cutting Metal Devil carbide tipped saw blade.

What separates Dynamic Saw from other saw blade sharpening companies is our knowledge, low prices, service, and our sawblade grinder; This makes Dynamic Saw a fully automated service center for carbide-tipped circular saw blades.
Above is a Vollmer CHD 270 video in operation with the ND 230 robotic loading system. The Vollmer CHD 270 is the most technologically advanced blade sharpener that money can buy!
Our secondary saw sharpening machine is the Colonial Saw UTMA AL805 - CNC Programmable with Top & Face Grind.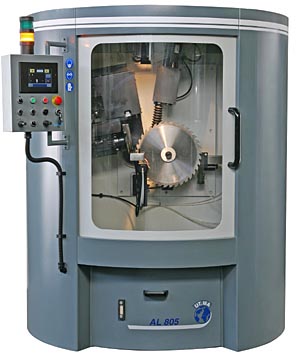 Our custom CNC Endmill Sharpening and Manufacturing Machine makes spiral router bits.
Saw Blade Sharpening Experts
Summary of our sharpening services
We are your complete router bit & circular saw blade sharpening service center. We sharpen all brands of saw blades and router bits on our "new" state of the art CNC grinders! Plus, we design custom sawblades!
We now sell wood & metal cutting band saw blades and metal cutting chop, skill, circular saw blades.
Your tools will be sharpened to a "Mirror Finish", giving you the longest tool life possible.
Our pricing is very low, saving you the most money possible.
All our sharpening service work is 100% satisfaction guaranteed as it's done by professional router bit / saw blade sharpeners.
Our goal is to give you the highest quality, at the lowest price, with service that is second to none!
Let us give your business the custom Dynamic Sawblade Edge.






At Dynamic Saw Inc., We Make The Cutting Edge!